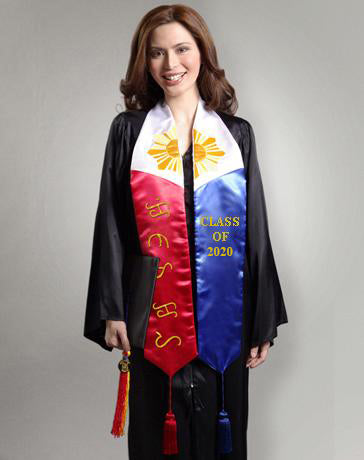 Graduation Stole 100910 Made-To-Order
Regular price $37.95 Sale
P-Grad Stole #100910
Proudly show your true colors...
Beautifully crafted in the Philippines ~ This stole features:
~ Embroidered words in Baybayin / Alibata (the script of Ma\'i or pre-colonial Philippines) which mean:
~ Wisdom & Hope

~ The colors and 'Sun' of the Philippine flag
~ Class of 2020
~ Two tassels which highlight the ends of this elegant stole
The traditional stole is worn to indicate honor and distinction.
Wear the P-Grad stole for the distinction of being a proud Pinay or Pinoy...
... for graduations (P-Grad, Fil-Grad, etc.), awardings and other special ceremonies.
Choral & other Pinoy groups look especially distinguished wearing these stoles as well.
Made of fine polyester satin. Dimensions: 84'' long (including both 6'' tassels)
Please email us if you'd like to use a purchase order for a group order.