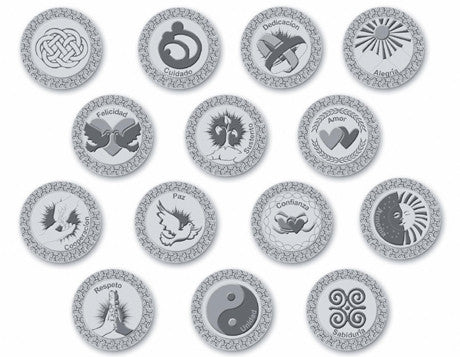 106 Silver Spanish-card Wedding coins
Regular price $46.95 Sale
Las Monedas del Consorcio
Unity Coins with Silver finish; Matte base & brilliant raised design; Spanish (also available in English versions, Gold or Silver finish)
~ A beautiful part of any wedding ceremony
~ A beautiful way to commemorate your love
The Unity Coins are a contemporary version of the traditional wedding coins, known as Arras in Mexico, Spain & the Philippines, that are used throughout the world in numerous cultures (Arabic, Filipino, Greek, Indian, Irish, Latin American, Sicilian, Spanish, Swedish, & others) & religions (Catholic, Eastern Orthodox, Jewish, Muslim, & others).
Las arras usadas en las culturas alrededor del mundo, han venido a simbolizar mucho mas que prosperidad. Las parejas de hoy en dia aceptan la vida y afrentan el mundo juntos, en una forma mas unanime. Para celebrar esta trayectoria que los recien casados toman, cada moneda de este consorcio tiene un diseno unico, representando una de las trece proposiciones universals del matrimonio:
~:~ el amor ~:~ la confianza ~:~ la dedicacion ~:~ el respeto ~:~ la alegria ~:~ la felicidad ~:~ la armonia ~:~ la sabiduria ~:~ la unidad ~:~ el sustento ~:~ el cuidado ~:~ la cooperacion ~:~ la paz ~:~
El uso simbolico de 1as arras en 1as ceremonias nupciales es una tradicion en diferentes religiones, culturas y paises del mundo. El diseno de las "Monedas del Consorcio" tienen influencias de todo el mundo, incluyendo: El "lazo matrimonial de los Celtos" (el cual se encuentra al reverso de cada moneda), el simbolo de la sabiduria de los Andrinka, y del "Ying & Yang" Chino.
Los disenos no pertenecen a ninguna denominacion y conmemoran las cualidades mundiales de un matrimonio solido.
Coin size: 30mm diameter (half-dollar size)
This coin set is comes in a protective plastic package. Keepsake box is not included.